Svish Labs
Dear Gentlemen, Intimate Wipes Are An Absolute Must For You!
Feb 11, 2022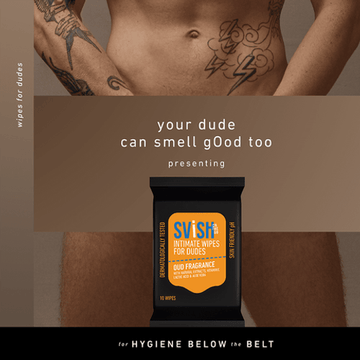 We all know taking a shower every day is suitable for our overall maintenance of personal hygiene, but some parts of you need special attention and care, like your intimate areas! Your intimate areas are more susceptible to moisture and bacteria. Keeping them clean and dry is essential for good intimate hygiene. 
The pubic area is a susceptible region and poor intimate hygiene can affect sexual and overall health conditions.
It's a common belief that that just like the rest of our body, regular soaps and body wash can be used on the intimate areas too, but the high pH level of regular soap can seriously impact the sensitive skin down there, causing irritation, itchiness and discomfort.
The easiest and most effective way of cleaning the intimate areas while being gentle is using the intimate hygiene wipes for men from SVISH.
Your intimate area has a foreskin that accumulates a cheesy- looking substance commonly known as smegma. Even though it is a natural lubricant that the body produces to keep the area moist, the excess build-up of smegma under the foreskin can lead to a foul smell, making it less likely to clean that area and become a home for many bacterias.
 This is not only a threat to our intimate hygiene but also a turnoff for your intimate partner.
We are sure you wouldn't want to ruin a intimate moment with your partner, let alone your hygiene. Just pull back your foreskin gently and clean the area using intimate wash for men from SVISH, wiping off all the accumulated smegma.
Adding this simple part to your everyday care routine can make a big difference in your hygiene, sexual health, and self-confidence. The clean, fresh and healthy feeling at all times makes you more confident in your own body. Plus, you don't have to worry about any smelly or dirty "oops" moments with your partner.
SVISH is a brand focusing on men and their intimate hygiene! We are launching intimate wipes for men to take care of their intimate hygiene anywhere and anytime. These wipes are perfect to use on any skin type for immediate cleanliness and freshness.
When to use Svish intimate wipes for men?
You can use them after urinating 

You can use them after workouts or any outdoor activities 

You can use them before and after sexual activities 

You can use them when you want to feel clean and fresh
You can also look at - intimate wipes for women
How to use the Svish intimate wipes for men?
Peel off the resealable sticker of the pack

Pull out as many wipes needed 

Gently wipe the pubic area from front to back once

Reseal the sticker to prevent moisture loss

Throw the used wipes in the dustbin and do not flush 
Men's intimate hygiene should see more light of the day! Just like women, men need to take intimate hygiene seriously . Make SVISH intimate wipes for men a part of your daily routine for clean and optimal results. 
Our intimate wipes for men are made with Oud, citric acid, and aloe vera that gently cleanses the private area while reducing itchiness, stink, rashes. They are dermatologically tested and are suitable for all skin types, 100% biodegradable, paraben-free, alcohol-free, and the gentle formula makes it skin-friendly.
FAQs
What is an intimate wash?
An intimate wash is like a cleanser for your private areas like your face or body wash. It makes sure you're feeling clean and refreshed at all times, keeping all kinds of injection and bacteria at bay. SVISH intimate wash is explicitly designed to be used around the groin area to keep the genitals clean and fresh at all times, beating sweat, dirt and smell. 
Is intimate wipes safe to use? 
Intimate wipes are specially designed to be used over the private areas; therefore, it is made keeping in mind the groin area's sensitivity and gentleness. SVISH Intimate wipes for men are non-irritating, easy to use, cleaning and refreshing wipes, and men can use them on the go. The non-harming ingredients like aloe Vera and citric acid make it a great product to combat itchiness, foul odour and rashes.
How often men can use intimate wash?
Intimate wipes are a gentle way of cleaning and refreshing at any time and can be used daily after indoor or outdoor activities like after sports, workout, urination, or to ensure you're clean and refreshed at all times.
Reference link - https://www.nhs.uk/live-well/sexual-health/how-to-keep-a-penis-clean/