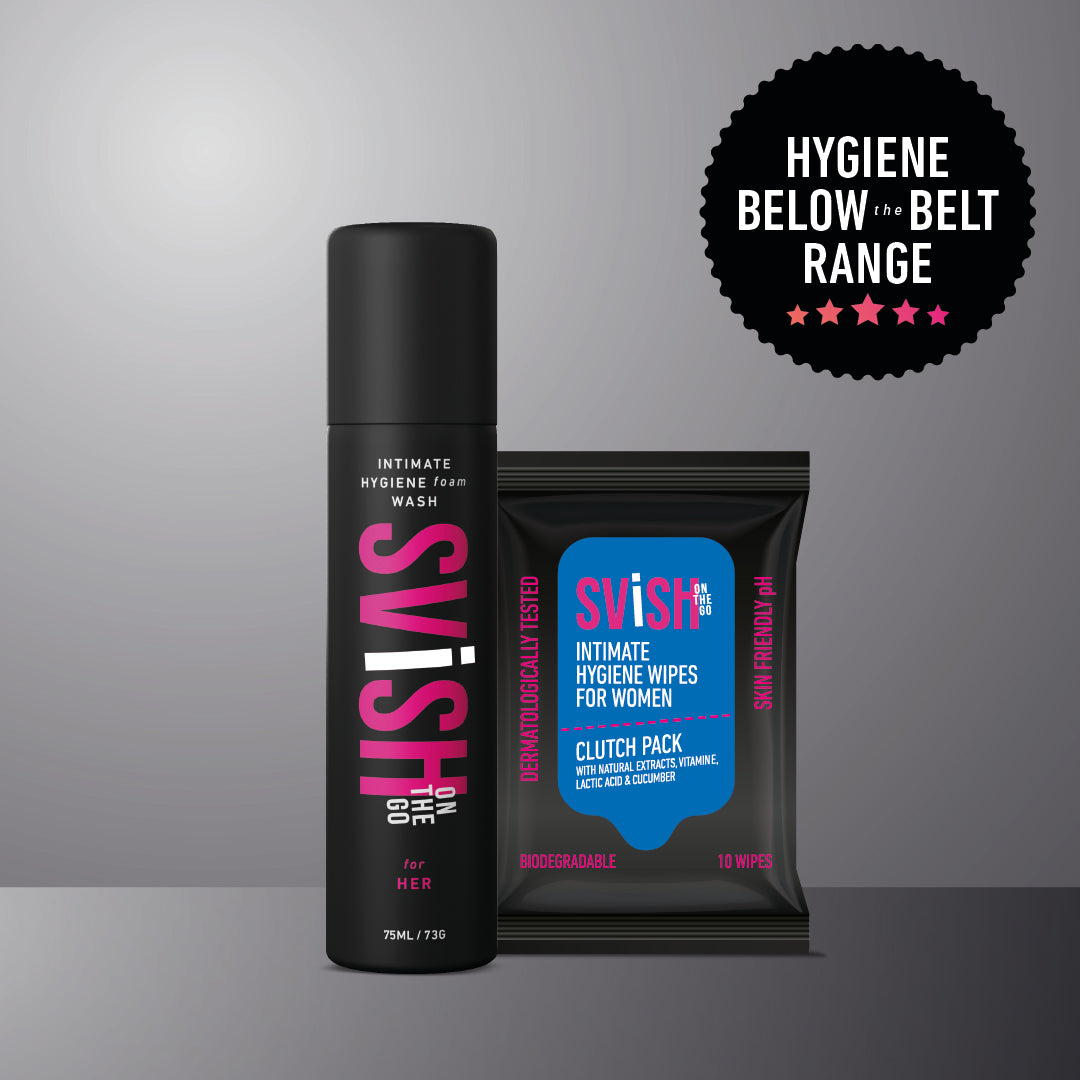 SVISH HYGIENE KIT FOR WOMEN - SMALL IS SEXY KIT
Sale price
Rs. 699.00
Regular price
Rs. 1,198.00
Tax included.
The Small is Sexy kit contains Intimate Wipes for Her- 100% biodegradable, Intimate Hygiene Foam Wash for Her, made with Coconut Oil, Aloe Vera and Shea Butter. All the products in the kit are dermatologically tested, paraben free and free of other harmful chemicals.
Intimate Hygiene Wipes For Women (10 pulls) Pack of 4
DESCRIPTION
Made with natural extracts of Aloe Vera and Cucumber, crafted with a unique formula for no itching, no odour, no irritation, all day long. It's 100% biodegradable, alcohol-free, paraben-free, gentle formula and dermatologically tested for protection and comfort. Designed to fit in a clutch and can be with you, wherever you go.
FEATURES
Clutch pack of 10, as small as your credit card.
No Itching, No Odour, and No Irritation
Dermatologically Tested
Maintains pH balance / Skin friendly ph 3.5
Made with natural extracts using Aloe Vera and Cucumber
Alcohol & Paraben-free, gentle formulation
100% Biodegradable
HOW TO USE
Step 01: Peel off resealable sticker. Pull out wipes as needed.
Step 02: Gently wipe the intimate area from front to back & dispose of it after single use. Do not flush.
Step 03: Reseal the sticker to prevent moisture loss.


WHERE TO USE
WHEN TO USE
After urination
After a workout or an outdoor activity
Anytime you just want to feel fresh and clean
Intimate Hygiene Foam Wash for Women (75 ml)

DESCRIPTION
Ladies!
Quick shower or long bath
PMSing or not, let hygiene be the priority always.
Svish away that gush of odor mid-day with the one and only intimate hygiene foam wash.
No itching
No odor
No irritation
No substitute
HOW TO USE
Shake the bottle well before use
Apply a generous amount of foam around the intimate area
Cleanse thoroughly
Generate lather and wait for 5 minutes
Wash it off with lukewarm water and pat dry
FEATURES
Trendy metal bottle packaging
Intimate foam wash
Made with aloe vera, shea butter and coconut oil
Reduces odor around intimate areas
Reduces skin irritation, itching, and infections
Dermatologically Tested
Maintains PH balance naturally/ skin-friendly pH 3.5
Alcohol, Sulphate & Paraben free and other harmful chemicals
WHERE TO USE
WHEN TO USE
During shower
After a workout or an outdoor activity
After a long working day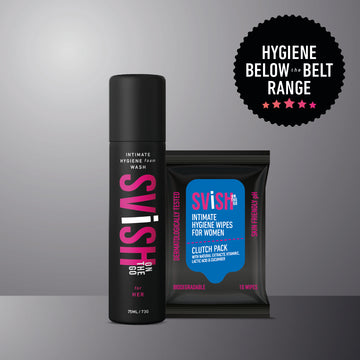 SVISH HYGIENE KIT FOR WOMEN - SMALL IS SEXY KIT
Sale price
Rs. 699.00
Regular price
Rs. 1,198.00