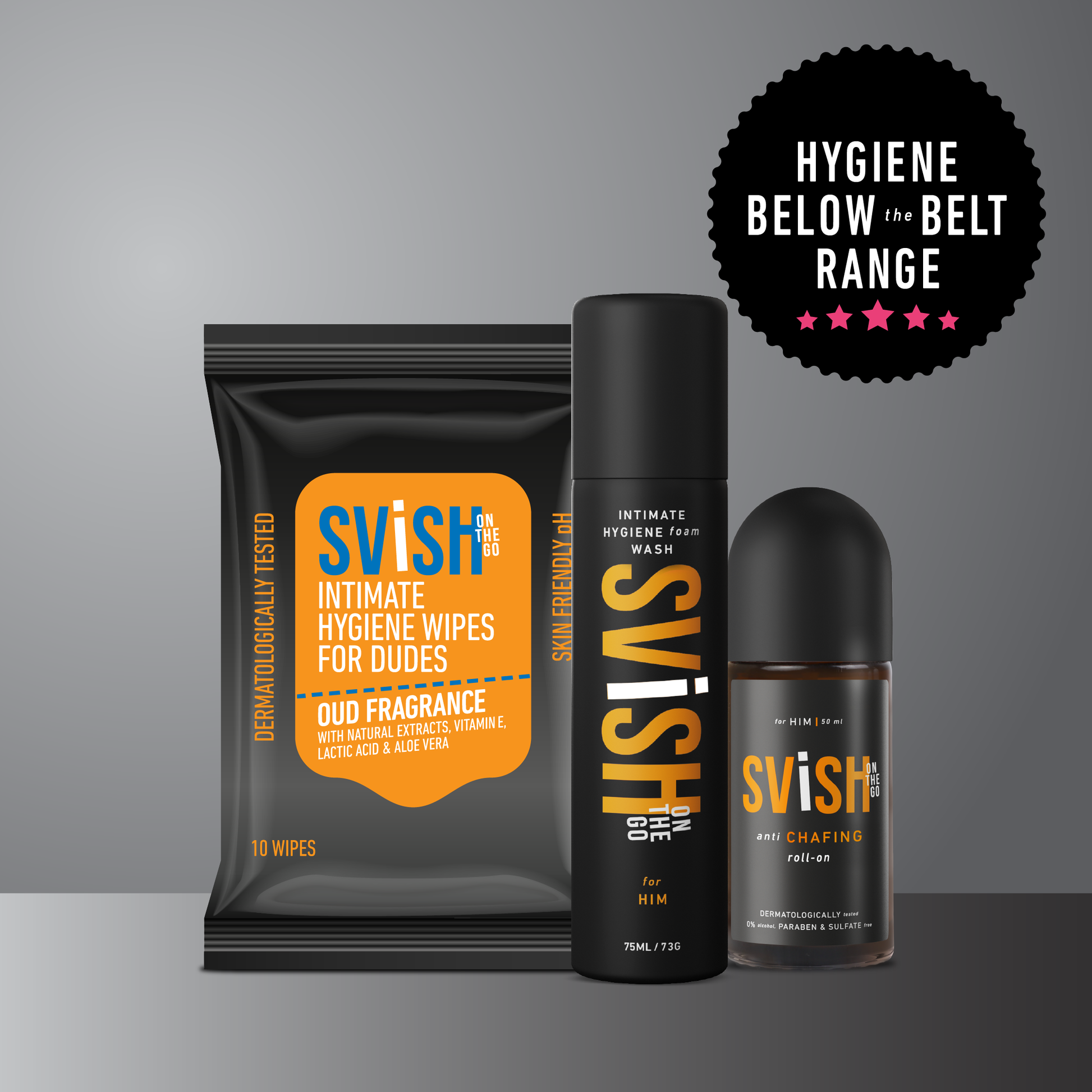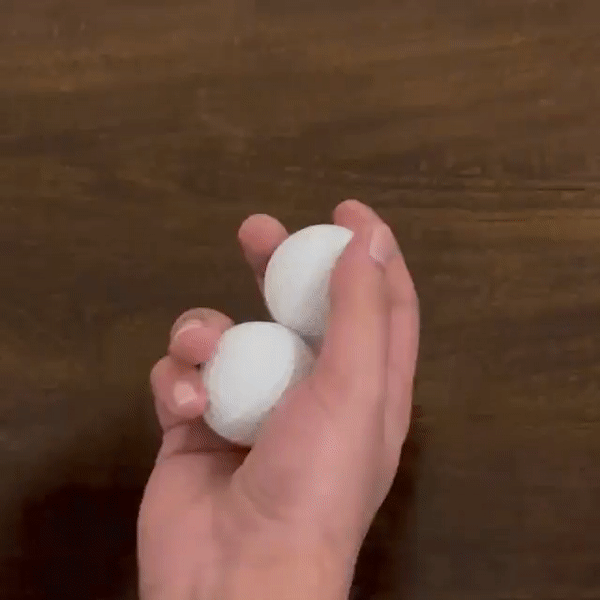 SVISH HYGIENE BELOW THE BELT KIT FOR MEN
Sale price
Rs. 999.00
Regular price
Rs. 1,754.00
Tax included.
Combo Contains:
Svish Ballz Wash x 1
Svish Intimate Hygiene Wipes x 1
Svish Anti Chafing Ballz Deodorant x 1
Hygiene Below The Belt Kit contains Intimate Wipes for Men- 100% biodegradable, Svish for the Ballz- intimate hygiene foam wash, Svish Anti Chafing Ballz Roll-On Deodorant for Him, made with Cedarwood Oil, Neem and Turmeric. All the products in the kit are dermatologically tested and made for men who take charge and care about their hygiene.

Ballz Foam Wash for Him (75 ml)
DESCRIPTION
Not an all-in-one wash for the head-to-toe
Svish for the Ballz is for the man on-the-go
No odor
No itching
No irritation
No substitute
FEATURES
Trendy metal bottle packaging
Below-the-belt foam wash
Made with fragrant, magic essential oils like jojoba seed, coconut and witch hazel oils
Reduces odor around intimate areas
Reduces skin irritation, itching, and infections
Dermatologically Tested
Maintains PH balance naturally/ skin-friendly 5.5
Alcohol, Sulphate & Paraben free and other harmful chemicals
INGREDIENTS
Witch hazel- Indigenous to North America and Asia, witch hazel tightens sensitive skin pores. It is also called winter bloom and has a calming effect on irritated and blotchy skin.
Coconut oil- A natural skin moisturiser filled with anti-bacterial and anti-fungal elements. Coconut oil helps eliminate dead skin cells and keep intimate areas nourished.
Jojoba seed oil- Native to North America, jojoba seed oil contains antimicrobial and anti-fungal properties, which makes it a great intimate skincare ingredient. It moisturises skin by keeping it hydrated and also helps protect against itchy, dry and rash prone skin.
WHERE TO USE
HOW TO USE
Shake the bottle well before use
Apply a generous amount of foam around the intimate area
Cleanse thoroughly
Generate lather and wait for 5 minutes
Wash it off with lukewarm water and pat dry 
WHEN TO USE
During shower
After a workout or an outdoor activity
After a long working day
Anti Chafing Ballz Roll On Deodrant for Men (50 ml) with Cedarwood Oil , Neem and Turmeric
DESCRIPTION
Svish Anti Chafing Ballz roll-on deodorant is for men who like to live life on the go. An itchy crotch will no longer stop you from being spontaneous. Ditch that itch; get over the odour!
Just roll it and Svish would do the rest.
FEATURES
Anti-Chafing roll on/ deo stick
Below-the belt care
Intense Oud fragrance
Smooth and gentle on skin
Made with fragrant, magic ingredients like cedarwood, turmeric and neem oil
Reduces body odor
Kill unwanted bacteria, hydrate & restore skin
Maintains pH balance/ skin friendly pH 5.5
Dermatologically tested
No paraben, sulphate, and other harmful chemicals
WHERE TO USE
Intimate areas
Chafe prone areas
INGREDIENTS
Cedarwood oil- Extracted from stumps of cedarwood trees, this all-in-one essential oil is proven to have multiple effects. It diffuses odor, kills unwanted bacteria, hydrates and restores skin, and has been widely been known for being an aphrodisiac.
Neem- Neem has multiple medicinal properties, a great source of fatty acids and vitamins that help maintain clean and dry skin. It diffuses odor and soothes skin irritation caused by moisture.
Turmeric- Filled with healing properties, antiseptic and antioxidant components- turmeric has been used for generations in Indian households as the go-to ingredient for treating skin. It helps achieve nourished and glowing skin, address common injuries and ailments.
HOW TO USE
Shake the bottle well before use
Roll it on affected/chafe prone areas and let it dry
Apply twice a day, for best results
Soothes skin, keeps it fresh all day long
Safe to use on intimate areas
WHEN TO USE
After shower
Before workout or an outdoor activity
Anytime of the day for an instant refreshing feel
Intimate Hygiene Wipes For Men (10 pulls) Pack of 4
DESCRIPTION
Made with natural extracts of Aloe Vera , and Citric Acid and OUD, crafted with a unique formula for no itching, no odour, no irritation, all day long. It's 100% biodegradable, alcohol and paraben-free gentle formula, dermatologically tested for protection and comfort.
FEATURES
No Itching, No Odour, and No Irritation
Dermatologically Tested
Maintains pH balance / Skin friendly ph 5.5
Made with natural extracts using Aloe Vera, Citric Acid and Oud
Alcohol & Paraben-free, gentle formulation 100% Biodegradable
HOW TO USE
Step 01: Peel off resealable sticker. Pull out wipes as needed.
Step 02: Gently wipe the intimate area from front to back & dispose of it after single use. Do not flush.
Step 03: Reseal the sticker to prevent moisture loss.
WHERE TO USE
Intimate Areas
WHEN TO USE
After urination
Before/After sexual activity
After a workout or an outdoor activity
Anytime you just want to feel fresh and clean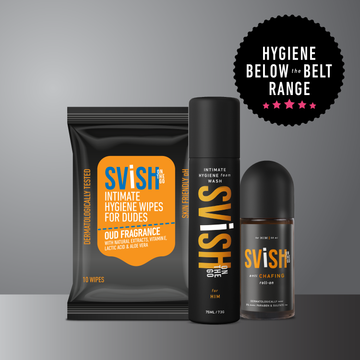 SVISH HYGIENE BELOW THE BELT KIT FOR MEN
Sale price
Rs. 999.00
Regular price
Rs. 1,754.00